Religious Get Well Messages
When someone is sick or injured we reach out and tell them we're thinking of them and wish them a speedy recovery. But sometimes we want to say more than just 'get well soon'. If the person happens to religious or have a very strong faith then you may want to use religious get well messages to express your wishes for them to feel better.
A religious get well message is one that mentions or includes some spiritual, faith or religious aspect it it. So possibly a Bible quote or verse alongside a message wishing them better health and to get well soon. This can be appropriate for both religious and non-religious (providing you know them well enough)
Having a message that reminds you of or reaffirms your faith during difficult times can be a real boost. It may help to bring strength to overcome whatever illness or injury is afflicting you. So a religious get well soon message is a great way to say a few words of encouragement to those who need it most.
So use these religious get well quotes to wish someone all the best and a speedy recovery from a faith perspective.
Religious Get Well Wishes
You are in my prayers at this difficult time. I hope you feel better soon
I will be thinking and praying God gives you strength to make a full recovery
Wishing God grants you a speedy recovery
Praying for your good health during this time of recovery
We are all sending our prayers your way for you to feel better as quickly as possible
God is there for you and will guide you during this difficult time. Sending my best wishes for you to feel better
My prayers are for you and you alone to make a full recovery
Hoping you are feeling better and taking comfort from family, friends and your faith
God will hear our prayers and give you the strength to make a swift recovery. I'm praying you're back to your old self very soon
You are in my thoughts in your time of ill health and I am praying to God you feel better real soon
Our prayers are for you to have a very quick recovery period and to feel back to normal as soon as possible
Prayer may not be considered a treatment by doctors but we know the power it has. We will all be praying for you
God bless you and your speedy recovery
Hoping you feel better soon and that our prayers help to speed that up!
The Lords strength and compassion will help you find the strength to overcome this. Sending my best wishes for a quick recovery
Know that God is watching over you as you face your battles. He will be there for strength, guidance and peace. Hoping you get well soon
I hope you will soon be feeling better and have found God's presence helped you in your healing
My prayers have been solely for you recently and I'm so pleased to hear you are on the mend. I can't wait to catch up again soon
Our prayers have been for you to be back to full health, and I'm so glad to see you make progress. We all care so much about you
May Gods love and peace bring you serenity and hope during your time of recovery. Get well soon
Whilst you recuperate look to God for strength and compassion. He will guide you through this testing time. Get well soon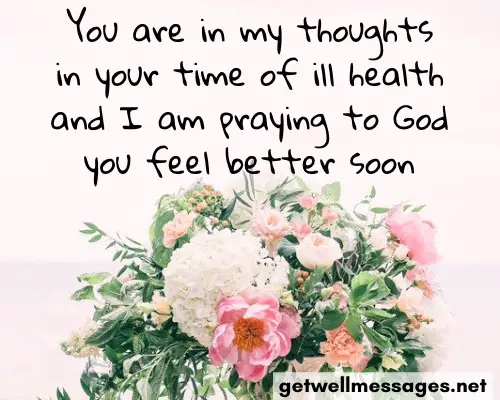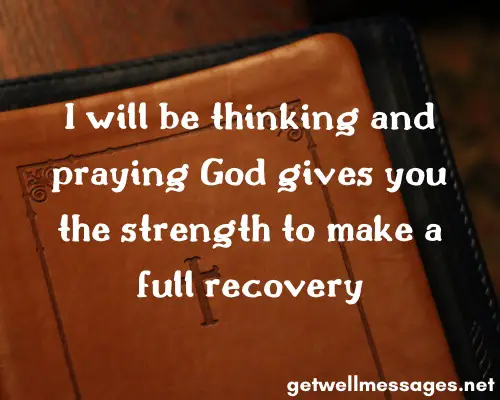 ---
Spiritual Get Well Wishes
May you feel blessed today and put your trust in your faith that you will feel better very soon. We are all there for you and wishing for better days
As you recuperate feel the love and warmth of that which we can't explain and use it to help you recover fully
He will bring better days and will bless you with joy as you continue to recover. I'm hoping you feel better soon
I'm hoping that as each day passes you feel stronger and happier. Sending positive vibes and healing thoughts to you
All around us is God, and He will be there when we need him most. You are loved and have all our support as you recuperate
Whilst you heal we are all praying that it is as speedy and easy as it can be
May the spirit of our Lord surround and help you to recover. All the best
Trust in love and you will find your path to health is clear. My thoughts are of you as you recover
Put your faith in God and feel his presence as you recover. He will guide you to health
Sending hugs, prayers and thoughts for you to feel better soon
Christian Get Well Messages
Whilst you heal find strength in the Lord and all he can provide. You will be in my prayers to get well soon
I pray He blesses you with love and health, and that you see better days very soon
God offers hope to all of us and will show the path to healing. Stay true and strong and you will feel better in no time
Our prayers are heard, and I'm praying for you and your recovery
God is there for however you need Him. He offers hope to all of his children. Find strength in Him and you will feel much better very soon
My prayers are that God will shine his light and love on you as you recover
May God offer you comfort and relief whilst you make your recovery. You are in both my thoughts and prayers
I hope my prayers and words can help encourage you in your time of need. May you make a swift recovery and feel like yourself as soon as you can
Remember God loves you as is there for you. As are all your friends. We love you and are wishing you to get well soon
His love is forever, it never fails and will always be there for you. Find comfort and peace in knowing He is there, and continue to heal. Sending my loving wishes for your health
Praying you feel the love of God in your life and that being close to Him helps you to feel better
Read more: Get Well Bible Quotes
Get Well Resources